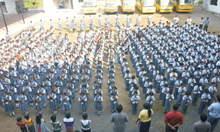 Morning Assembly sets the tone of the day. The Class on duty takes the responsibilities of arranging the assembly. Students present various items like Quiz, Thoughts of the Day, Reciting Poems, Chanting Slokas, Congregational Prayers, News Reading and Devotional Songs. By participating students get rid of stage fear. Teachers give small talk on Moral values. Assembly concludes with National Anthem.
Health Individual competition is followed so that students can be accessible to various competitions and a spirit of being excelling is inculcated in the students.
For giving better opportunities to each child for a healthy competition in all fields.
Apart from regular academic curriculum the students are participating in Inter Class and Debates, Quiz, Essay Writing, Speech Competitions in both Hindi and English Languages.