Transportation
The school has own fleet of buses to carry students to and from the school under escort. Parents are requested to decide at the time of admission if their ward wants to avail of the bus service. The students should be at the bus stop ten minutes before the schedule time.
If you happen to take the child from the school on your own or bring the child late to school on your own your bus conductor must be informed about this in advance. In case you want the bus route changed even for day a written note should be submitted.
Laboratories
Science Lab: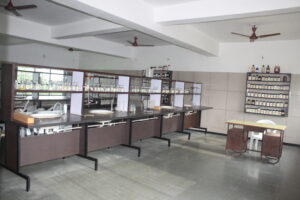 Its amazing to see that Shree Swaminarayan International Gunatit Vidhyadham has Grown into a full fledge school in a very short span. The efforts by Teachers, students and with Unreserved support of management, the school is going to have classes of Senior Secondary from the academic year 2011-12(Both Commerce and Science).
Science is about observation, application and systematic work. The school has well equipped Science labs; i.e Physics , Chemistry and Biology. Through lab.work a scientific attitude is developed to make the students search for truth, rational thinking and aversion to superstitions.
As the school is maintaining standards of quality teaching, even for Senior Secondary we will be having qualified and experienced teachers.
Computer Lab: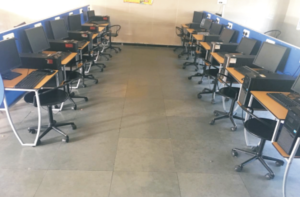 Computers have rapidly taken over our life from the minutest to the detailed. To meet the ever – increasing needs and demands of computer literacy, the school has a systematic, well organized computer department. This department boasts of two very well furnished computer labs for Junior and Senior Wing, which are supervised by the competent faculties.
The State of art equipments, latest softwares and well ventilated rooms are its noteworthy features.
Along with the latest computer softwares, the school has also installed a Special English Software Programme "Words Worth Programme". This software has been installed in the school just to strike a balance between how we speak and what we say. Developing better communication skills with technology is the over all objective of the Programme.
Mid Day Meal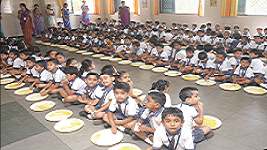 Its all fun to be at school from morning till afternoon. Students in the pre primary section are served breakfast and milk in a healthy atmosphere. Before every meal the students have prayers that makes surroundings condusive for a disciplined and well mannered atmosphere. Students are served clean, healthy, nourished and pure vegetarian food. Having food in the company of fellow students and in a natural atmosphere bring joy at our dining place. Food is prepared by efficient cooks.
Medical
All children undergo an Annually two times Medical Checkup by the school doctors in the school premises.
Vaccination program also conducted in the school whenever specified by the Government.
School Counseling
The modern day education is incomplete without guidance & counselling.
A counsellor in the school assists students to help themselves in all domains of their life -academic, emotional, personality development, interpersonal relationships, choice of subject and career. We at SIGV plan their educational, vocational and personal futures. We provide individual and group counselling services to meet the developmental, preventive, and remedial needs of students
We work with students on a range of issues, including communication and relationship building skills with peers, parents, and teachers; time management and study skills; stress management; anxiety reduction; transitions; self-esteem; and management of peer pressure.
Every student faces the question of 'what next' after class 12th and 10th.
We at SHREE Swaminarayan International Gunatit Vidhyadham, Samroli-Chikhli feel that if a student chooses a career that is in synchronization with his/her Aptitude, Interest and Personality, he/she is likely to be more productive and successful in life. We have designed a whole range of services that are integral and complimentary to a child's schooling.
We at SIGV Interview personally to all the students and listen their issues which they are facing in their day to day life and accordingly we give remedies. It helps the student to identify their strengths, interest areas and personality to select a correct option.
Classrooms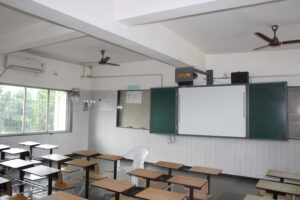 21st century classrooms need 21st century state of the art infrastructure. All the classrooms are equipped with white board, LCD projector and Extramarks software which offers 360 Degree Approach -Learn, Practice & Test – completing the full cycle of learning. Extramarks believes in educating their students with the best and simple process of teaching. Extramarks follows 3 simple steps to teach students. First, comprehensive concepts through various multimedia platforms. Second, Practice through several interactive exercises and third Conducting online tests Series.
Library

The School library has a good collection of books of various kinds and reference material on a wide range of subjects.The expanded library can accommodate 80 students for a comfortable reading session. The dimensions of the library are according to the norms of CBSE.
With a qualified librarian , we have library oriented activities which creates unlimited knowledge and perpetual interest in books . Having library as a compulsory class for all the students from 1 Std and above creates an atmosphere of competitiveness and also regular reading habits.
A wide variety of magazines, periodicals, journals, books on stories, philosophy and religion and also regional and national level newspapers are also being subscribed to inculcate reading habits and also accessibility of world news